Hey Folks!
Saturday Thanksgiving & Christmas are All Coming Up Soon...
and With That Said... There Comes Mixtapes...
Plans Have Been Changed and So Have Titles\Covers...
to Help Me Explain This All I Have a Very SPECIAL Guest..
Everyone I Would Like To Introduce Torn Sandals...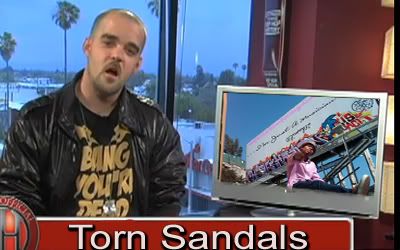 You All May know Him From His Little Video Thingy Talking About The Charles Hamilton J Dilla Detroit Situation..
But With The Sudden Return of Charles Hamilton, Hes Decided To ADMIT That Hes Been a Starchaser
Since Day1 of the Hamiltonization Process 08 and Decided to Change His Name...
(and now he thinks hes cool)
Well Enough About Him... While Listening To Poems By Adrieanna I Thought I Should Change
NatesGivings Day...To Outer-space Nate... So I DId.. Thanksgivings Day Expect Outer-space Nate
And Same With A Hamiltonians Christmas... it Has Recently Been Switched To TVI The Mixtape
Same Day Coming Christmas.. but the NEW cover(which yall aint seen)[and the new track list with
more new tracks]I Decided to Redo My Concept...
Torn Sandals Liked The Idea Too!!
Theres More!!! This Saturday!.. FOR SURE.. I Will Be Dropping Adrieannas First Full Song..(yall Will see
And Im Expecting A New MIxtape Via David Blaine!!!
Torn Sandals Doesnt Like Any Music Besides Charles AT ALL.. Like not Even Kanye or Demev SMDH..
Just Charles All Day... Look At His Face!.. Hes Disgusted He Has To Wait For New Charles..
A
n
d
I
f
Y
o
u
R
e
a
d
T
h
i
s
A
l
l You Will Receive A Special Suprise Song If You Click This Picture Of
And With All that Said And The new Track You All Receive...
The Introduction and Outroduction of Torn Sandals....
I Guess You Will Hear From Me Again In Post 99...
[i
really Hope Some1 Sends This To Torn Sandals...]
**Why Did I Give Y'all This I Dead Ass Have NOO Reason Too... I'm Just Happy Be Happy With Me**